INTERVIEWS, ARTICLES & MORE
On this page, you find stuff that has been published about White Spot Pirates / UNTIE THE LINES by others or created by me. Some articles, interviews and blog posts to give you additional information. Most of it is in German, but I am working on getting some English coverage as well.
If you would like to do an interview with me or are interested in an article written by me for your magazine, please do not hesitate to contact me!
You have written something about White Spot Pirates or UNTIE THE LINES on your blog but don't see any link here? Please let me know and I will add your post to this section with a backlink to your page!
Thank you and Ahoy, Nike & KARL
(Jan 2015) Find out in this interview that No&Yo did with me, why I decided to sail the world, to buy my boat in Panama and what the darkest moment was during my journey with KARL so far . And once you are there, you should also check out their awesome shirt collection for adventurers and outdoor enthusiasts. I can't wait to get my own one!
Thank you, Isabella, for this nice interview!
READ INTERVIEW

ARTICLE IN "YACHT" (GER)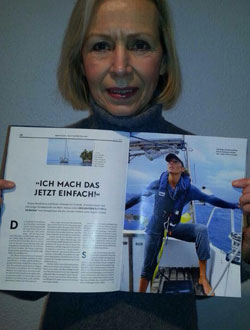 (Jan 2015) Quite a biggy for me: The most well-known German sailing magazine "Yacht" published my article. On six pages you can read about KARL & my story, about how I took the decision to do this journey, how everything came a bit dfferent than I thought and of course the first experiences with KARL when finally sailing.
It was a lot of fun writing it, reminiscing my adventure with KARL during the last one and a half years. I hope you enjoy reading it!

"RADIO BREMEN" INTERVIEW (GER)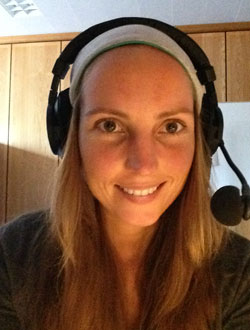 (Oct 2014) Back in Germany for filling up the cruising kitty, I had a nice talk with Tinia for Radio Bremen about my journey with KARL so far.
The funny thing was, that I sat in Hamburg by myself in a recording room of the NDR and she was in Bremen talking to me over the headphones. It felt a bit strange in the beginning, but Tinia made the interview go by smoothly. But check it out yourself.
PLAY INTERVIEW

ARTICLE IN "ÜBER MAGAZIN"  (GER)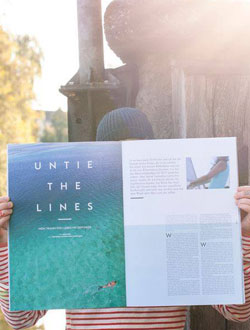 (Oct 2014) My friend Anna was doing the layout for this German magazine and I was able to submit this small article with some nice pictures taken by Matthieu.
It was quite a special moment to hold the published edition in my hands, especially cause it was my first ever published article and also because the magazine is A3 format, which feels quite impressive.
VISIT WEBSITE

BRUDER LEICHT-FUSS INTERVIEW (GER)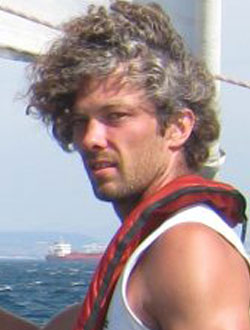 (Apr 2014) Timo also dreams of buying a sailboat one day and to UNTIE THE LINES. He has already hitch-hiked across the atlantic, which sounds like a real cool project.
We did this little interview when I had just found the holes in KARL, and it was a really nice and welcome distraction at that time from all the worries running through my head.
Thank you, Timo, and good luck for all your future projects!
READ INTERVIEW

ARTICLE ON SAAL ZWEI (GER)
(Aug 2013) When I just reread this article, I had to laugh a bit…It sais somewhere " when I will fly home for christmas, I will hopefully have made it down to Chile". Yeah, right…I guess things came a bit different then I tought in the end.
But at least, the journey was not over after three months, which was also one of the other possible szenarios that I had seen for the future…
READ ARTICLE
(Apr 2015) Anja from Ocean Amp and me chat a little bit about my first two years after buying my boat Karl. About the ups and downs of my new life as a cruiser, about sailing between beautiful palm tree islands, why I decided to persue this dream and why it was nearly over before it really started.
PLAY INTERVIEW

SLOW BOAT SAILING PODCAST (EN)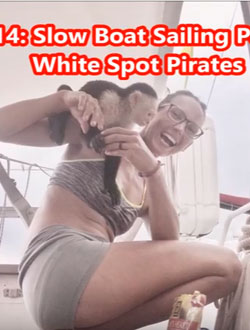 (May 2016) When I was in Isla Mujeres, Linus from Slow Boat Sailing and I had a little skype call and talked about some of the destinations I visited during my journey. We talk about how to deal with trash in remote areas, the supply situation for cruisers and some stories that happened to Karl and me under way.
Linus also has a video channel, you can check it out here.
PLAY PODCAST

WINDPILOT BLOG POST (GER)
(Nov 2015) My Windvane Pacific (I call her "Lady Pacific") is one of the most important piece of equipment on my boat. My sleep depends on her, so I am very thankful to Peter for his help with improving the set up of my Windvane.
And thanks as well for this fun and charming blog post about my travels with KARL.
READ BLOG POST

INTERVIEW ON SEGEL-FILME.DE (GER)
(Jul 2015) Check out this video if you want to find out why Untie The Lines is filmed in English although I am actually German
WATCH INTERVIEW