January 8

How To Cross The Panama Canal Without An Agent
Panama Canal Transit: done!
This year in August, I did the Panama Canal Transit. I crossed the Panama Canal with my sailboat Karl from the Atlantic into the Pacific. What an epic moment! I had tears popping out of my eyes. Seriously, it was quite an emotional moment when those massive gates opened in front of me. Unfortunately you will never see any of those feelings, because my GoPro decided to take a dive exactly at that minute. Crazy coincidence, yes. A friend of mine said it was
"…the cost of passing from one reality to another. Either give it up or it gets taken from you."
Anyways, you are here because you want to read about how to cross the Panama Canal without an agent, so I will make sure I deliver!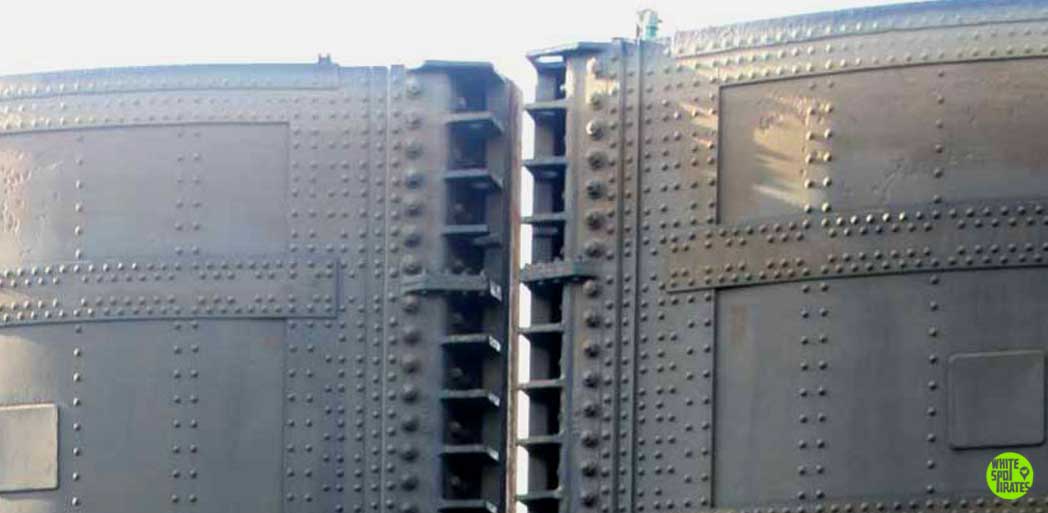 Every great project starts with a to do list
Right? At least with me that is the case. Nothing more faszinating than ticking stuff off, I just love it!
First, I am going to give you a really short overview of the steps you need to go through for a successfull Panama Canal Transit. For those that want to know some more details, you can keep on reading below. And for those of you, that don't like reading so much, I have added a video explaining the whole procedure at the end of this blog entry.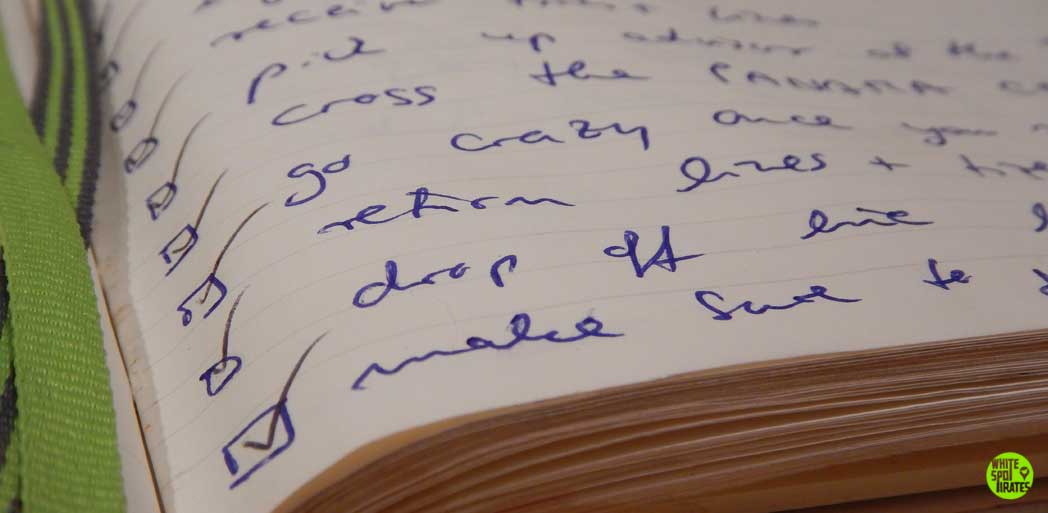 ---
 THE ULTIMATE PANAMA CANAL TRANSIT CHECKLIST
Fill out the form 4405-i and send it to optc-ara@pancanal.com (Atlantic side) or optc-arp@pancanal.com (Pacific side)
Call the Admeasurer's Office to get a date for your boat measurment at +507-443-2298 (Atlantic) or +507-272-4571 (fairy soon after you sent your e-mail, as in one or two hours later)
Reserve a slip at Shelter Bay Marina for your measurement (this is optional, you can also stay at anchor at "the flats" instead -green pin on the picture)
Get measured and fill out tons of forms and answer millions of questions
Deposit the money at Citibank (I read some places you can wire the money, too, but I was told no…)
Call the Scheduler's office at +507-272-4202 to get your date of transit (anything after 6pm the day you deposited the money)
Organize your four 125 feet long lines and sufficient car tires (if you have sufficient on board, no need to hire them, if you don't call Roger +507- 6717-6745 on the Pacific or Tito +507-6463-5009 on the Atlantic side). It's 100$ for drop off and pick up.
Make sure you have four line handlers for the Panama Canal Transit (ask friends or hire professionals for 100$ each)
One day before your scheduled date for the Panama Canal Transit, call the Scheduler's office again +507-272-4202, just to reconfirm you date and to aks at what time you should be at "the flats" (green pin on the picture)
Make sure your engine is purring like a kitten and everything is ship shape!
Plan enough food and drinks for all the peeps coming for the trip
Get a Zarpe from the Port Captain in Shelter Bay (with all the info about your line handlers)
Day of transit: leave a good hour before your set date to head over to the flats. Communicate with the Panama Canal Authorities (Cristobal Signal Station) on Channel 12. You will meet your advisor here and from there on, he will tell you what to do
Transit the Panama Canal, go crazy when you get to the other side (optional: or when you spend the night on lake Gatun – not advised, though)
Make sure you get your deposit back. Call the Accounting Department at +507-272-7857 in case you don't and tell them your Panama Canal Transit ID-Nr to get information about your status
---
The Costs of a Panama Canal Transit
Now you know what you have to do, to cross the Panama Canal…Usually, the fact that people are interested in most is: cuanto cuesta (how much does it cost)?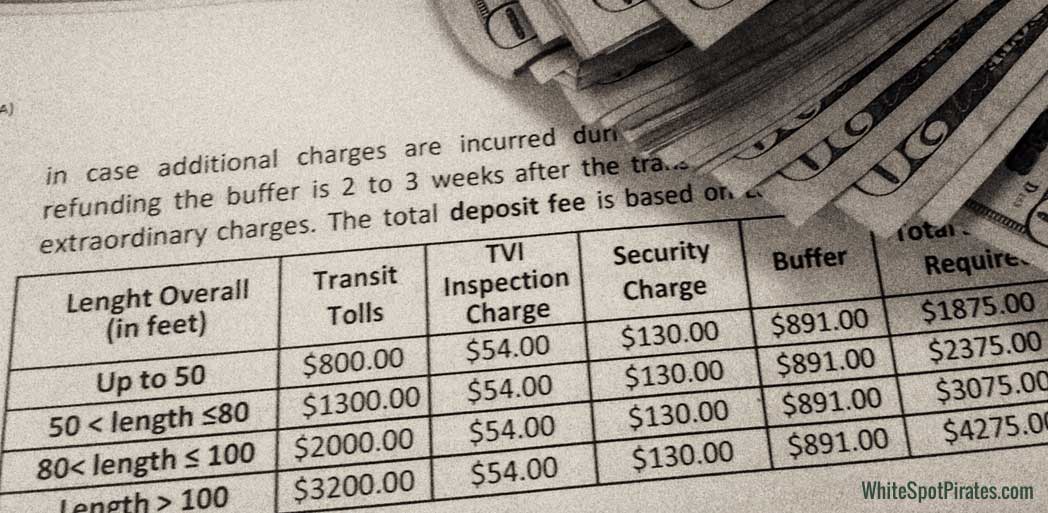 If you are a hand line vessel below 50 feet, you pay 800$ for the Panama Canal Transit. In addition you pay a 54$ TVI Inspection Charge and 130$ Security Charge. If you do not have an agent, you need to pay a buffer of 891$ that you will get back after your transit. Well, if you do not damage anything, that is.
Those costs add up to 1.875$ plus 100$ for the drop off and pick up of lines and fenders. If you cannot find line handlers for free, they usually charge 100$ per person. And of course you will have costs for food, drinks, diesel etc. which I will leave out of this calculation.
An agent will cost you between 400 and 500$ and usually includes the lines and tires as a service. So those costs plus the line handlers are optional, the 984$ for the Panamal Canal Transit are inevitable for each vessel below 50 feet.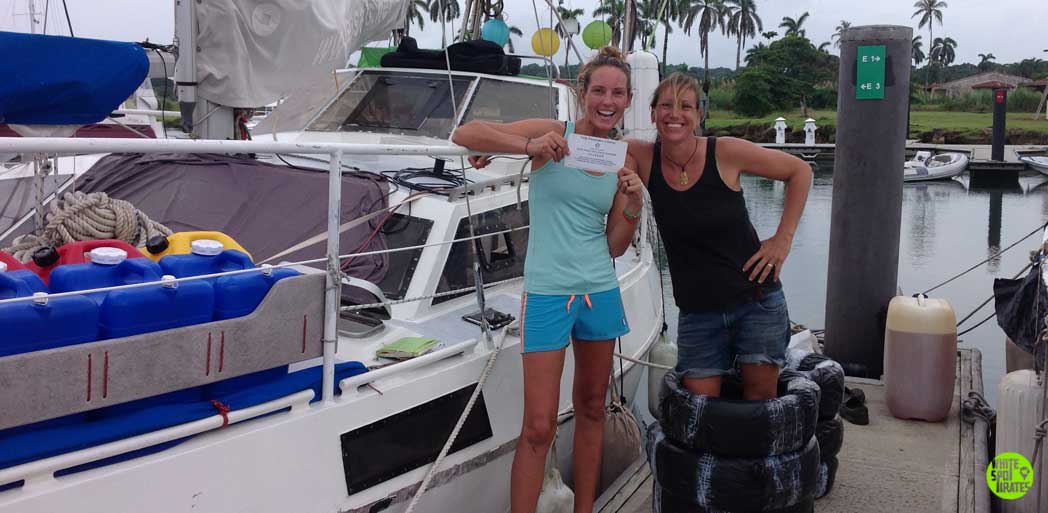 The day of getting measured
The most work during the preparation to cross the Panama Canal (apart from getting your boat shipshape) happens at the day of measurment. An official will come to your boat (make sure you tell him your dock number and boat name) and bring tons of forms that you need to fill out.
He will ask you questions like:
Does your head work? Yes, of course (he will let you prove that to him)!
Do you have a holding tank? Of course…(luckily he does not check on that one…)
What's your average speed under engine? Six knots (it used to be five, the guy that came to my boat wanted six…but for the transit itself it's fine if you do five)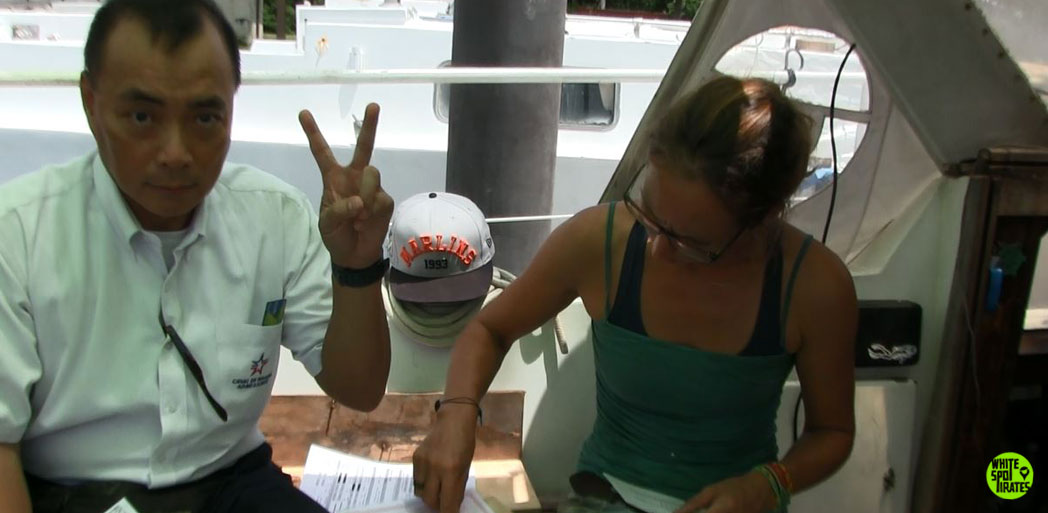 Do you have sun shade, enough food and drinks for the advisor? Sure.
Do you have your lines and fenders? Yup.
Do you have an air horn that works independently? Yesssss (an electrical one that is run off your boat batteries does not count!)
I think that's about it. At least those are the more tricky ones where you just have to say the right stuff.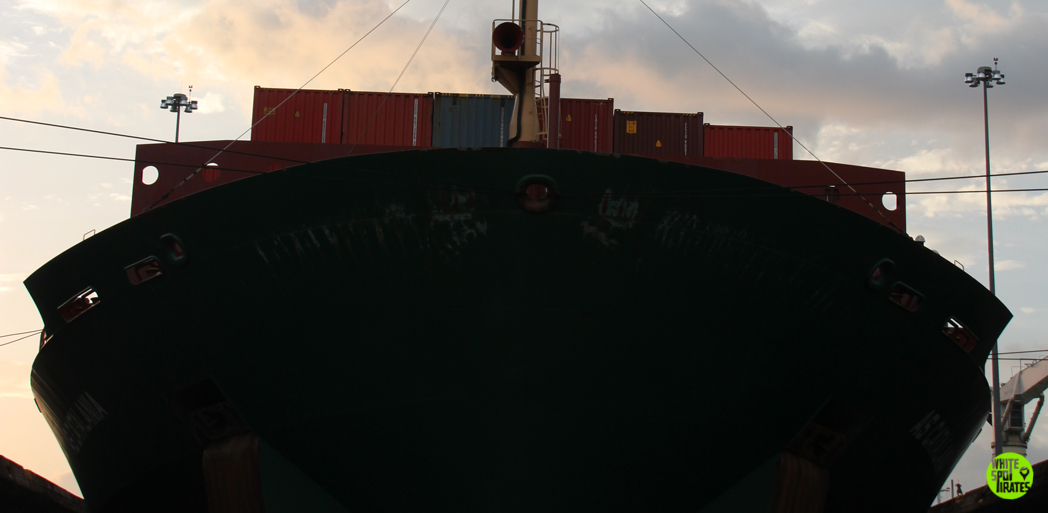 For the measurment itself…As you can see, the costs go up quite a bit if you are above 50 feet. You might want to consider dismounting your bathing platform or anything that would possibly get you below 50. It's worth the effort!
Your measurment will be valid for 60 days. Therefore, you will have to find a date within the next two months. Be aware that there are times that are way more busy than others. Usually, November to March will be busier than other times because many people will try to cross in those months. Its therefore recommended, to get measured with a bit of a buffer, get a date and then you could spend your waiting time in the San Blas islands.
I crossed in August and only got measured two days before my desired transit day. I did not get my dream date but I was able to cross one day later. But don't expect for things to run that smoothly in high season.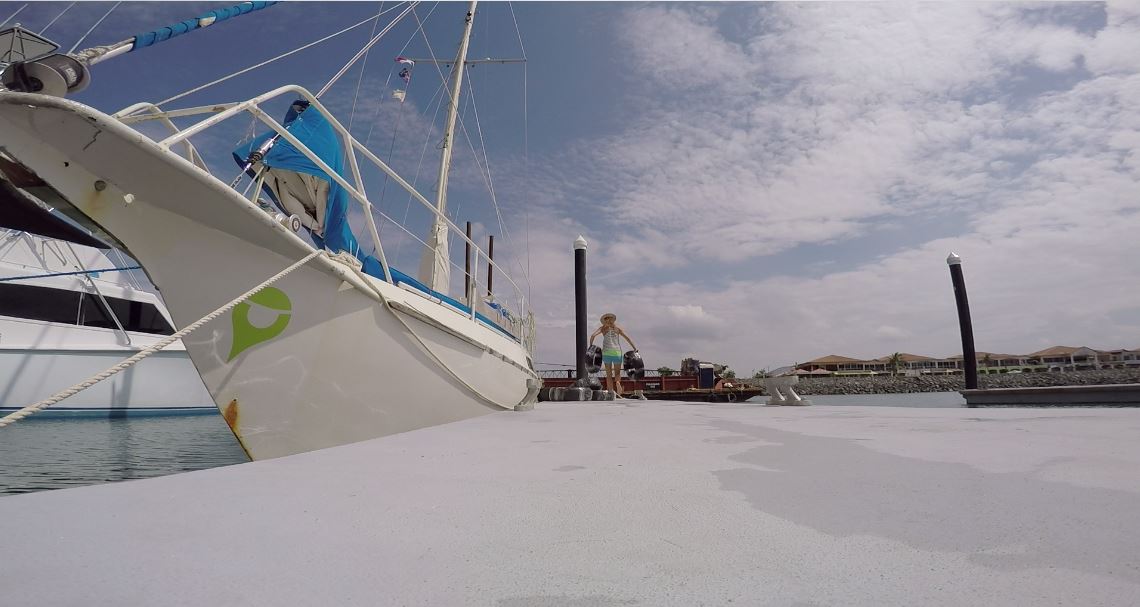 Depositing the money
Now, I have read many things about Colon and how dangerous it is. Yes, it's not a stroll through a beautiful park…but in my opinion, it is not that bad that you need to invest 500$ into an agent to do all the money busienss for you. Here's a litte video to get an impression of the town (starting at 0.45 min).
There is no ATM at the Citibank (I know, sounds weird, but that's how it is). You will most likely have to go to a couple of different banks to get all your cash together. The ATMs usually have a 500$ maximum you can take out.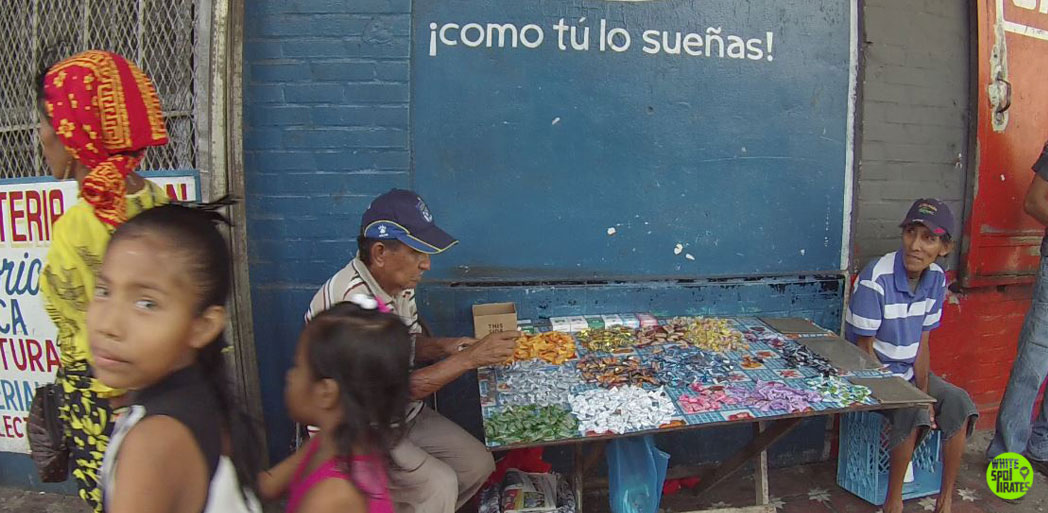 You can get your money in a place where it's a little nicer to take out cash, e.g. at Millenium Plaza or Quatro Alto. Bring one or two people with you, just for the sake of not being by yourself. Of course you don't want to draw too much attention to yourself when you go to Colon with tons of cash in your pocket. So leave all your expensive stuff at home.
If you don't want to grab a cab on the street, just call a cab driver that you know and go with him. He will drop you off in front of Citibank and there is not really much of a big possibility of you to get robbed.
Everyone is different, of course. And if you have the feeling you won't feel comfortable with it, then do get an agent. I for myself did not feel the need for it. But then I had been in Colon many times before to get tools and parts and I knew it would be ok for me.
The Panama Canal Transit – Day 1
Usually, you will leave around 1pm or 2pm on the day of your transit. But the officials will tell you at what time you will have to pick up your advisor at the flats anyways. Make your way over to the flats and try to cross the canal entrance lane on the shortes way possible (not like the track I did on that picture). Drop your anchor between the yellow buoys and tell the Cristobal Signal station on channel 12 that you have arrived at the flats. Wait for your advisor standing by on Channel 12.
Once your advisor is on board, he will be the one in charge telling you exactly what to do. You will go through the first set of locks up to the Gatun lake on the first day. You will either hook up to one of the red buoys there or you will have to anchor. The advisor will leave your boat here. It is preferrable to go to the buoy. Many boats have had problems with their anchors getting stuck on some garbage on the bootom of the lake.
Since they are operating the new set of locks, though, it seems they don't want you to cross the new lock entrance area. That is why they make you anchor instead. Try to find a way to convince your advisor to let you go to the red buoy. It will save you a lot of potential trouble. And remember: each extra night you will have to spend in the Panama Canal – for whatever reason – will cost you around 500$ extra.
The Panama Canal Transit – Day 2
On the second day, a new advisor will come on board between 6pm and 8pm. You will then motor along the Canal until you reach the three locks going down before entering the Pacific. The only issue we have had was in the first lock going down when a big ship came in behind us. The container ship pushed so much water into the tight locks that my boat Karl and the Catamaran we were rafted up to, were pushed dagerously to the side. Make sure your outer line handlers are on their toes and have a fast reaction. Some people have seriously damaged their boat in this moment.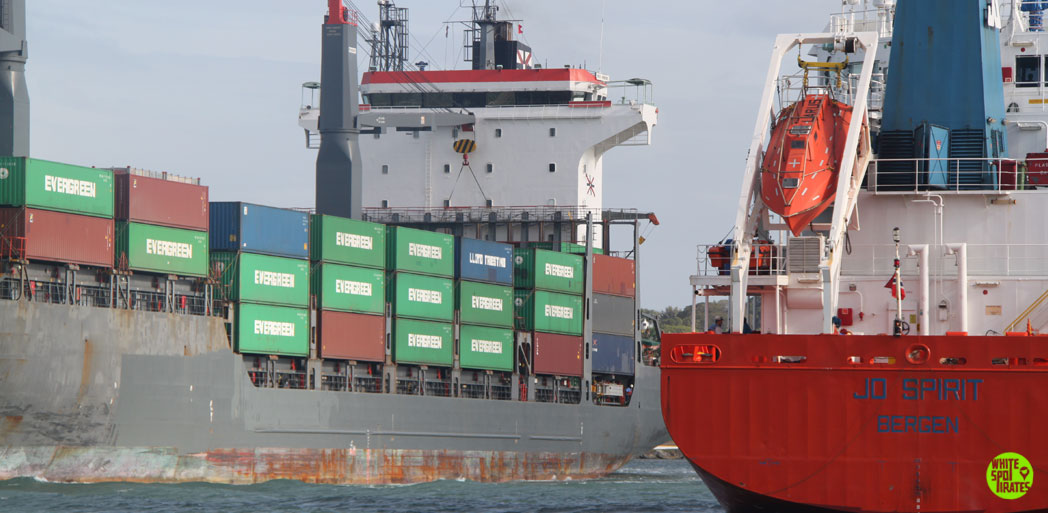 It helps to do one or two previous Panama Canal transits as a line handler before you go with your own boat. I went with two other boats to get an idea what the transit is like. Also, it is nice to help others to cross and if you are lucky, they will handle your lines in return.
Arriving in a new Ocean
After the third lock, you enter the Pacific. You will have to drop off the advisor at Balboa Yacht club. Usually they will come with a boat to pick him up. Sometimes, your tires and lines will be picked up here, too. You will have to discuss that with whoever provided them for you.
You have different options where you want to stay for the night. There are moorings at Balboa Yachtclub, slips at Flamenco or La Playita. And there are two anchorages, one in front of La Playita Marina and one on the other side called Las Brisas.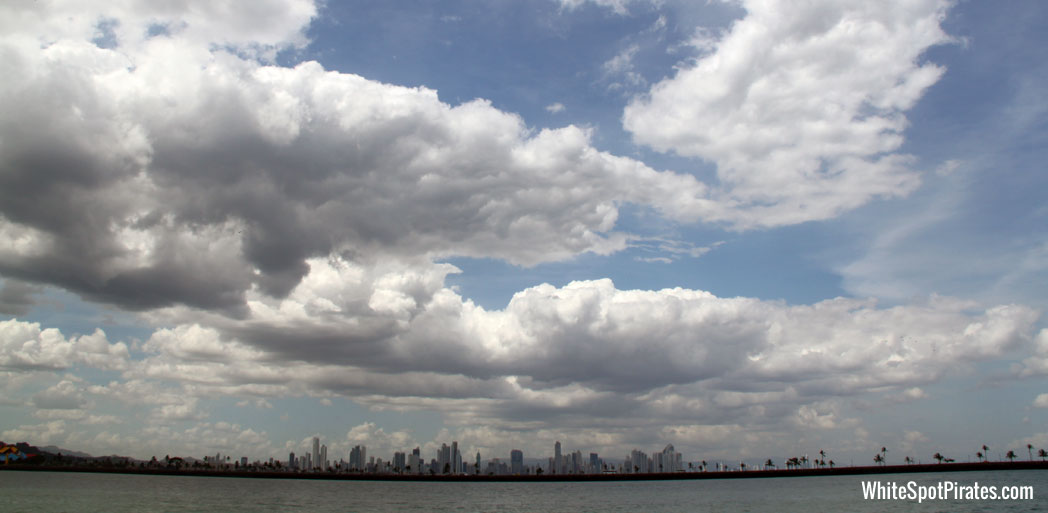 That's it – you did it!
It's over so fast. For me, the sensation of having crossed through a country to go from one ocean to the other in about 48 hours was quite impressive. I had planned to enter the Pacific long time ago…In the end it took more than two years longer than I had thought it would. But I don't regret the extra time I got to spend in the Caribbean. I could have easily spent another year or two…but new adventures in the Pacific are calling.
Getting your deposit back
Some people have stated, that they did not get their deposit back. When you do hire an agent, you don't have to pay a deposit. For me, this has been the only reason to actually consider an agent at all. In the end I decided to risk losing my money. I just cannot imagine that the chances are very high you lose your deposit without there being any reason for it.
In my case, I had waited for a month for them to wire the money back. Then I called the Accounting Department at +507-272-7857 and a very friendly and helpful lady asked me for my Panama Canal Transit ID. Once she had the number and typed it into the system, it took her a minute to find the information. She told me the money had been sent that day and should be there the following.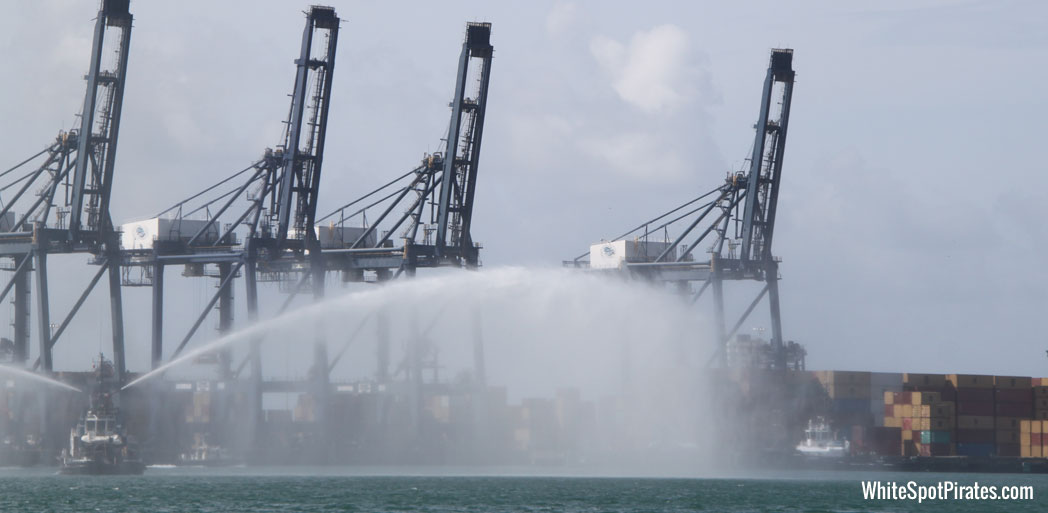 The money did arrive the next day. Now you could say maybe she had not transferred it yet and just did it because I called. Fair enough…Still, this would involve one more call from you to get your money back. Still not worth 400 -500$ (for me, that is).
Good luck for your transit!
All there is left for me to say is that I wish you good luck for your own Panama Canal Transit! In case you found this Blog post helpful for your preparation, please share it with your friends. And please leave a comment if you have any suggestions, questions or aditional info that you think I should add.
Oh, and of course, the video…I split it in two parts. Part I deals with the preparation of the Panama Canal Transit. Part II  is about the Crossing itself and how to get your deposit back.
Last but not least, a massive thank you to Maria, Jeff, Mark and Cid. They handled the lines on Karl during the transit and we had a fabulous time together! Thank you!
Safe transit,
Nike & Karl