April 23

How To Build Your Own Mast Steps

When I bought my good old Karl, he did not have any mast steps. There was a chair that you could be pulled up the mast with, but I thought it would be nice to have steps instead, because I thought that a) it would be a bit safer when you climb up the mast at sea because you don't swing around so much and b) it is much easier and quicker to climb up there to check if everything is ok or to just take a nice shot from above of a beautiful anchor bay or to do some filming under way…(I can tell you, I have already used them quite a bit and I LOVE them!)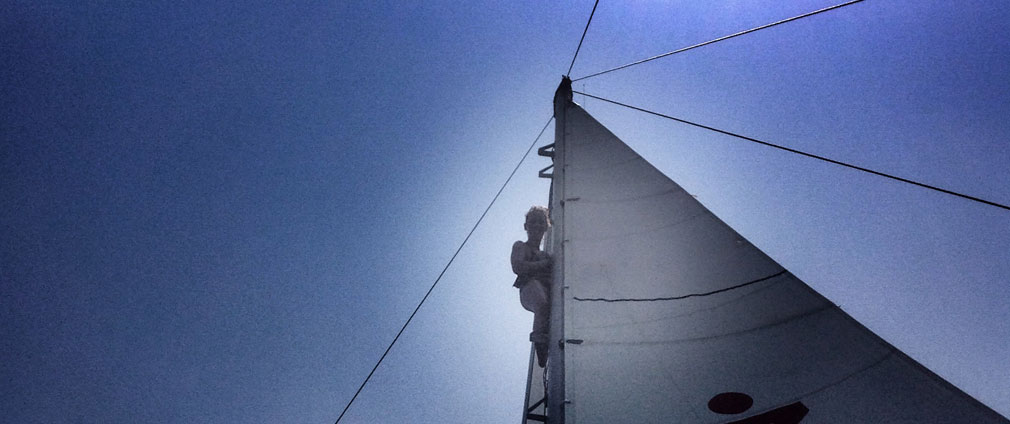 Back then, I did a little research for prices online and was a bit shocked about what I found. If I remember right, one step was around 20$ and some even more. With around 20 mast steps to climb up comfortably, well…you can do the math yourself I guess. The project got moved to the "postpone until a cheaper solution comes up" list.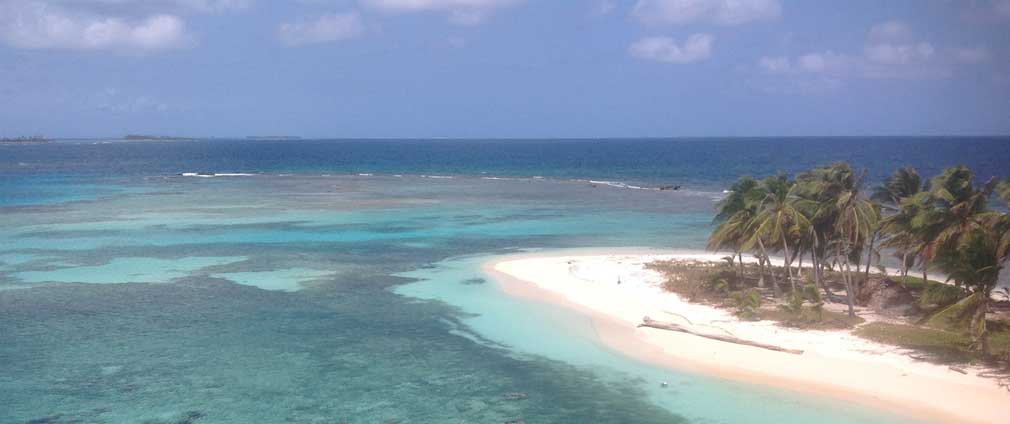 After leaving Shelter Bay, I spent some time in Puerto Lindo (Panama) and that is where I met a German guy called Leo who was selling his "old" Reinke Super 11 and had moved to a beautiful aluminum Catamaran. With mast steps – nice ones, the kind I was looking for…So I asked him where he had gotten them from and with a wide grin on his face he told me that he had built them himself. We chatted a bit and as he still had some aluminum on the boat that he did not need at the moment, he agreed that I could buy the material of him and he was even willing to help me to build my own mast steps for Karl. Awesome! Another great person that I met along this journey from whom I have learnt heaps and another project that was a lot of fun as well as rewarding because you get to see the result every day when you look at the mast.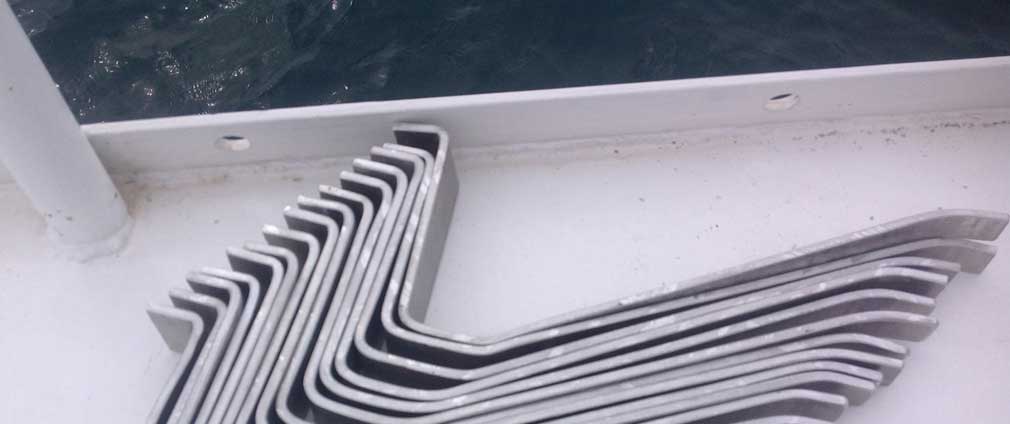 When I posted the episode in which we created the mast steps, some people had asked me for measurements. And today, finally, finally, I find the time to share them with you (because I am waiting for some paint to dry for a shelf that I am building for my aft cabin). It's actually quite simple to build them…I am just always scared of table saws, even with wood already…but if you are a bit bolder than me, you should not have any problem.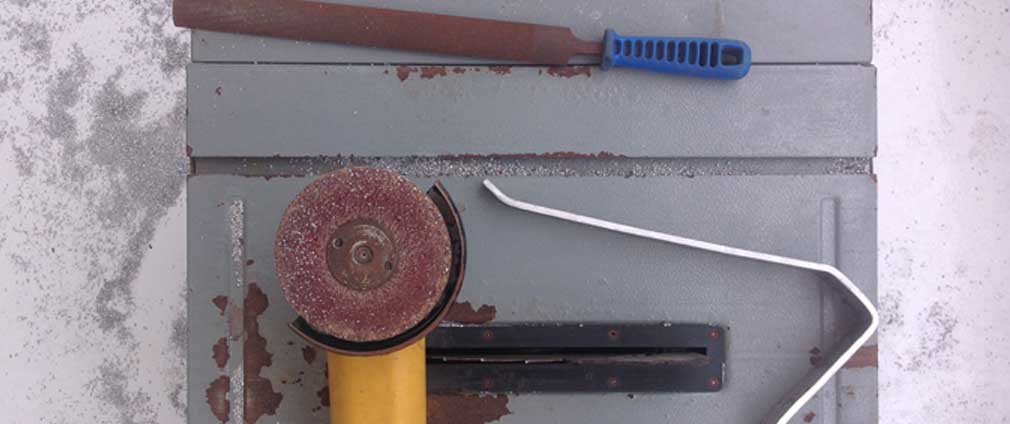 Here's what you need for 20 mast steps:
45cm x 61cm x 5mm aluminum sheet
folding ruler
table saw
grinder or metal file
drill
vice
big fat hammer
60 rivets (we used 6mm if I remember right)
big rivet gun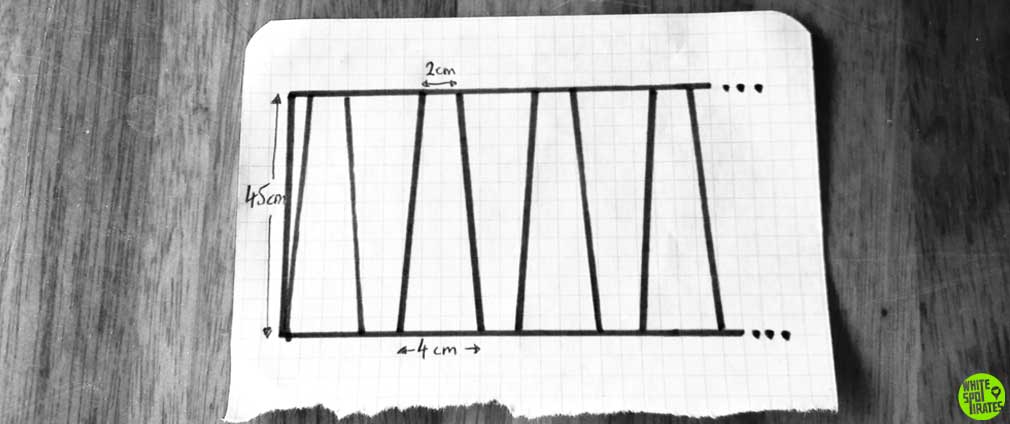 The workflow is pretty straight forward…you cut the mast steps with 4cm at the bottom and 2cm at the top. Clean the edges and then put them into a vice and hammer them into the shape that you want them to be. You can find the measurements that we took below, but obviously, you can change them depending on how wide / high you would like them to be (just make sure bottom and top reach the mast).
Due to the slightly round shape of the mast, make a cut in the lower part that will be riveted onto the mast and bend the two feet a little bit so they adjust slightly to the curve of your mast. Then drill two holes in the bottom feet and one into the top part and smoothen the edges a bit.
That's it, you are ready to go and play with them on your mast!
If you can, climb someone else's mast to see how you would like the distance between the mast steps to be, just to have a feeling for it. Mine are 50cm apart from each other and I find that a comfortable distance for myself. I tried Leo's before and it was helpful to make up my mind…you don't wanna have to take them off and drill some more holes after you mounted them and found out that you don't like the distance…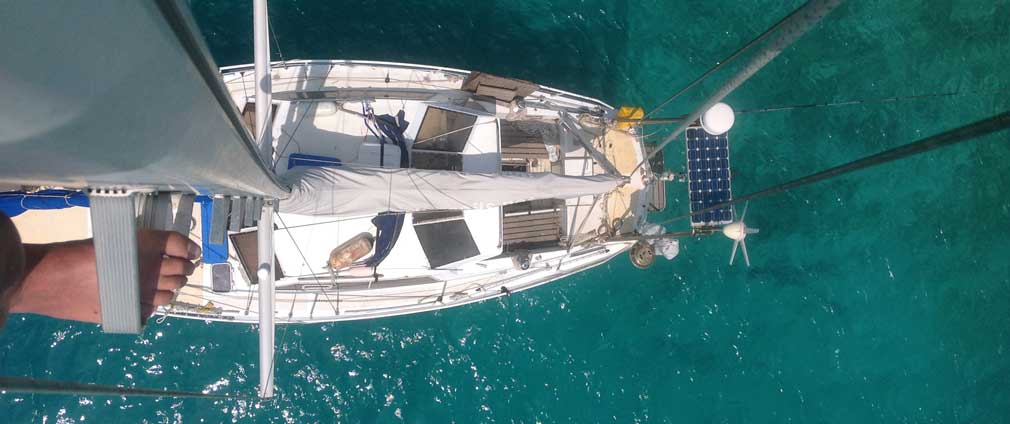 You still have some questions? Please let me know and I will try to answer them…And if you have any suggestions / improvements to this, please be so kind and share them with us in the comments below. There is always many different ways to get to Rome, as you know, and this is just one of them that I have walked on in the past. A huge thanks goes out to Leo without whom I probably would not have any mast steps 'till today and you would not have this little DIY-mast steps blog post!
Ahoy, Nike