April 18

San Blas Adventures: Lisa's famous jungle waterfall hike

Most San Blas Adventures take place on picture perfect deserted palm tree islands or in crystal clear water around pristine coral reefs. Not this one. The famous "Lisa tour" is actually one of the few main land based activities in Guna Yala (San Blas in the Guna's language). It's a lot of fun combined with a great insight to the culture of the Guna people. Lisa, your tour guide, will show you the beauty of the jungle that surrounds the river that runs by the same name as the village she is from: Rio Sidra.
Let the San Blas adventures begin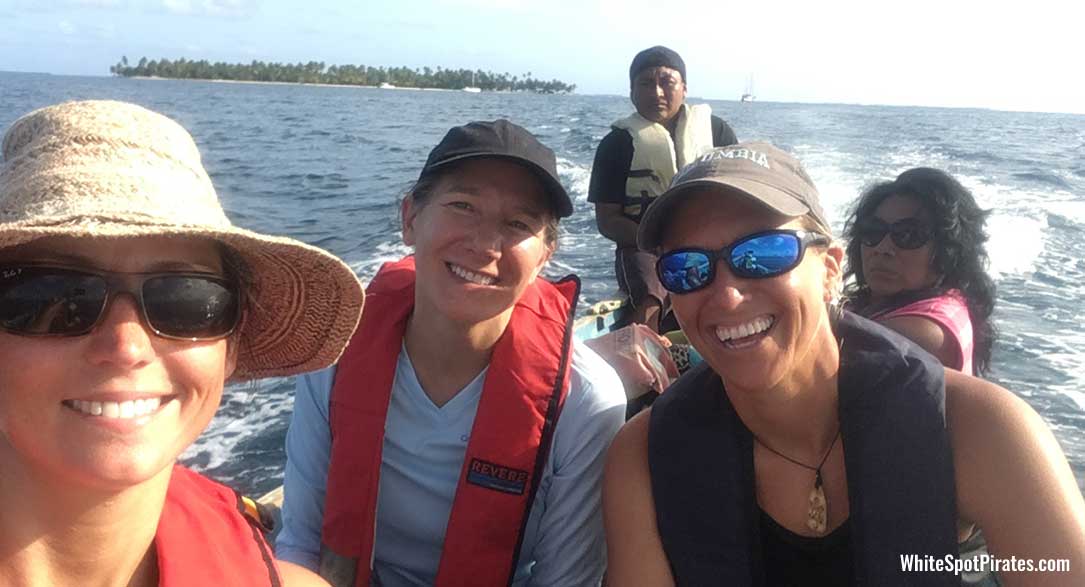 Around eight o'clock in the morning, Lisa comes by the boat with her lancha (a little dugout canoe with an out board engine) to pick us up. Us, that's Maria (captain of SV Joana), our charter guests Carrie and Scott with their daughters Lyla and Carly and me, Nike (crew on SV Joana at that time). We were anchored off the island Salardup with SV Joana, but I think there is an anchorage just off Rio Sidra as well where you could be picked up.
In our case, the boat ride was some 15-20 minutes cruising towards the beautiful green hills of the mainland. I just love it, when the trade winds have blown most of the thick rain clouds away and you can see the soft green curves of the mountains that look like comfy pillows.

Even though I spent a good four to five month in total in the area of San Blas with my boat Karl during the last three years, I never got to do the Lisa hike. I once tried, but there were some boat issues on the way there, so I had to turn around. Now that I finally get to do it, it's during my first charter trip that I am working for Sail Joana. This is the second day of our guests being on board and we are off to the jungle. Fortunately, our guests are ok with me filming the adventure, so you will be able to see the trek in one of the upcoming episodes of Untie The Lines Season 3 sometime in the future.
The funeral of a "saila"
When we arrive, Lisa is discussing some issues with our lancha driver in Guna language. I only know about five words in Guna and have no idea what they are talking about. Our guests are looking at me with big question marks in their eyes and I feel thrown back into the times when I worked as a tour leader in Peru in my early twenties. After some investigation I find out, that there is a funeral today in the graveyard that we have to pass on the way to the river. And it is not just any funeral, but they are burying one of their "sailas", which are political and spiritual leaders in the Guna culture. Understandably, they do not want to be disturbed by tourists marching through their ceremony.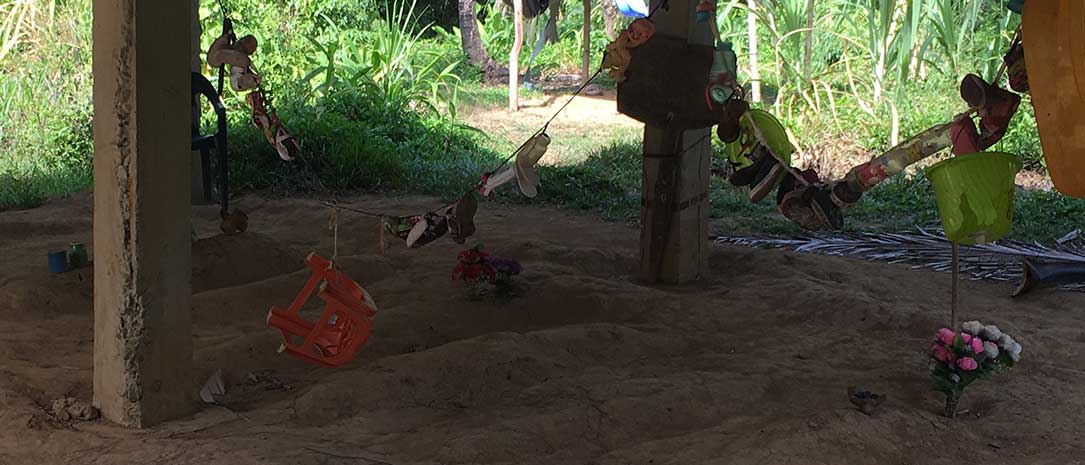 Silently we walk for some twenty minutes, keeping together and trying to find a path that will cause the least disturbance possible. It seems that the ceremony has not started, yet, and Lisa shows us the cemetery where her family is buried. She tells us that she cannot go any closer because she is feeling a bit unwell. When the Guna are ill, their spirit becomes weak and if Lisa would pass too close to her family's graves, their spirits would try to catch her and drag her with them. Who could blame them…
When we come by some Guna women along the river, they ask us for some matches to light their incense but unfortunately we did not bring any. But we did bring Joana's boat dog Niko. The Guna always giggle when they ask for the dog's name, because "nika" means "I have" in Guna language. The Guna ladies have a dog with them at the river as well, and we have to make sure Niko passes quickly and smoothly. I call out "achu nika" to them, which means "I have a dog", and they giggle again. Those moments always leave me wondering if they are laughing about me or if they are just a very jolly bunch of people.
Walking uphill through the jungle
We continue hiking and the path winds slowly uphill through lush green vegetation. Lisa is pointing out some medicinal plants along the way and sharing more stories about the Guna and their beliefs. A highlight are some little red flowers along the way that she calls "the lips of Marilyn Monroe". I will let the pictures speak for themselves…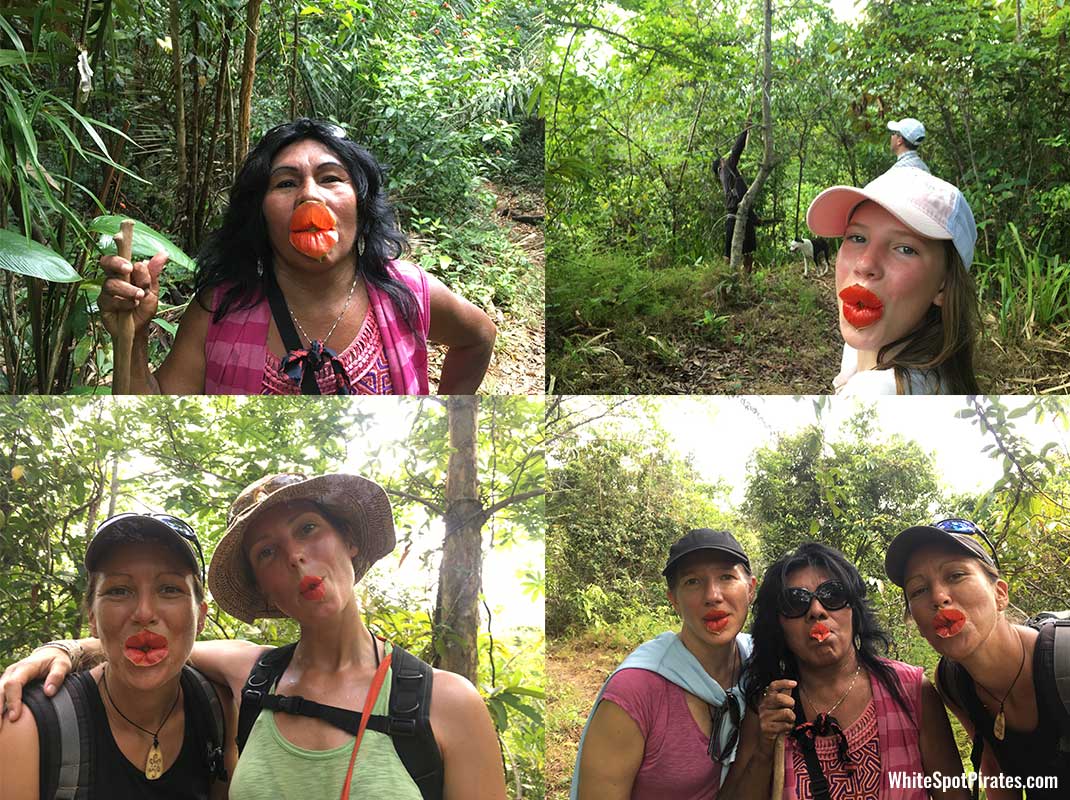 It's hot and humid, but the walk is very pretty and we know that a refreshing waterfall will be waiting for us at the end of this trail. Niko is romping through the bushes somewhere and Lyla, the older one of our charter guest's daughters, asks if there are any tapir around. "They will come out once the mangoes and avocados are ripe, still a month from now", Lisa replies.
Our visitors are in good shape and after an hour and a half we reach our lunch spot. Just before that we enjoy a beautiful view of Salardup on the one side and the highest hill of San Blas on the other. The sacred mountain that stretches in front of us is also the border of the comarca Guna Yala, the San Blas territory.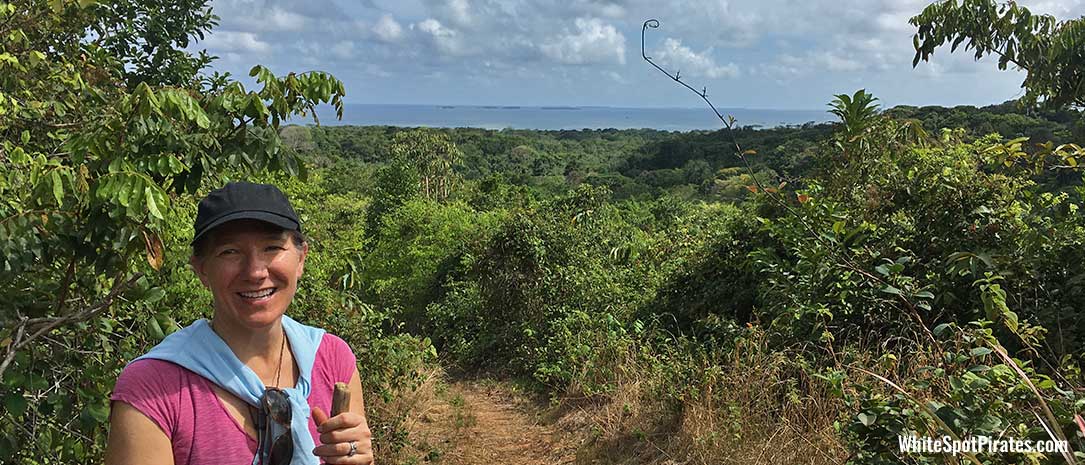 A refreshing waterfall lunch break
We have just reached the Rio Sidra and the two adventurous girls, Lyla and Carly, are already splashing around in the delicious cold water. They did not hesitate for a second before they jumped off the rock, some three meters above the deep crystal clear pool. Lisa does this tour all the time, so she knows where it's safe to jump and where not. She has been guiding this jungle hike for thirty years now and she tells me she still loves it each time she gets to do it. You can tell by the enthusiasm in her voice when she tells her stories.
Ok, but now it's lunch time. Where are the cups, the cold water, here's the pasta salad, the forks…"did you pack the pineapple, Nike?". Ups, no, I did not…we had talked about it in the morning but then nor Maria nor me had actually put it into one of the backpacks. Well, "how about some Trail Mix, anyone?". I am taking mental notes for the next run: remember to bring some fruit, Lisa and the second guide have asked for soda…Mosquito repellent for the guests would be good, too.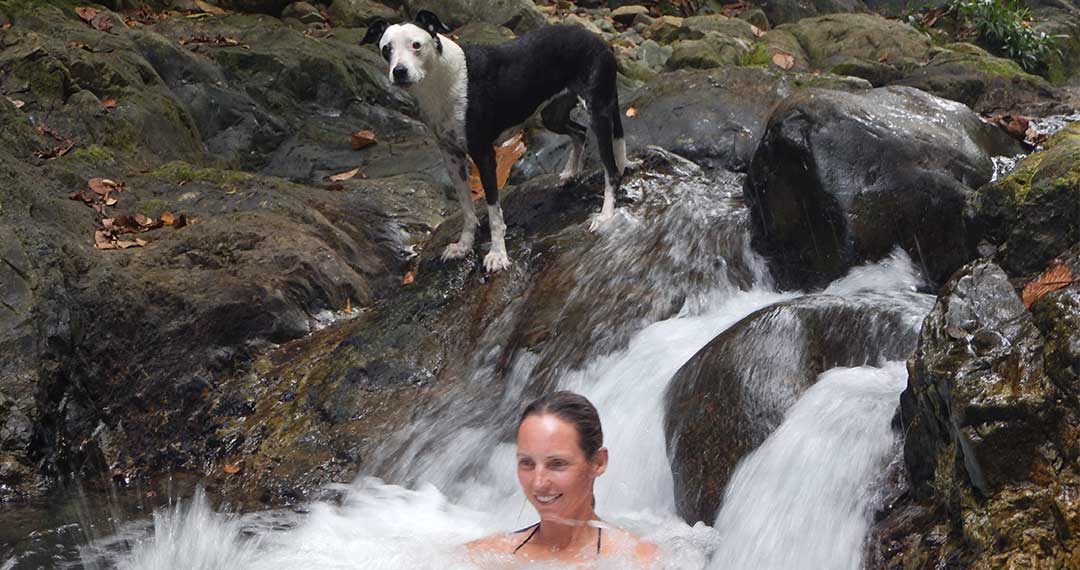 Sliding, jumping and wading down the river
After lunch, the best part of the trip begins: from now on, we walk down the river, through the river. We are gliding down natural water slides, jump off the rocks into sparkling pools and there is even a liana to play Tarzan on. Well, in our case it's actually mainly Janes that get to use the natural swing. The kids seem to love it.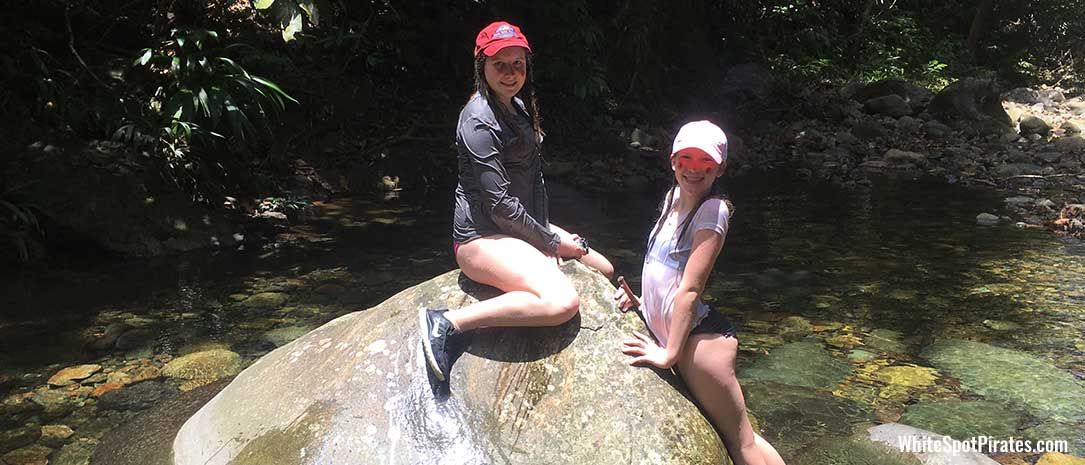 Two further attractions along the way back are the spotting of a white hawk (that of course I did not catch on camera) and a wooden "ulu" that is ready to be sent down the river for the final wood carving. "Ulus" or "cayucos" are the kayaks that the Guna use to get around the islands. They are carved in one piece from a massive tree trunk. Some of them even have a mast and sails, the others are moved purely by muscle power.
A fun day trip comes to an end
When we come back to our lancha, we are still counting four charter guests and a dog. That's a success, I'd say, right? It's been an exciting day and I have to say, if this is what working in charter business is like, then hey, I'm up for more! But I have to keep in mind that this is not the usual daily charter routine. It's an additional tour with Lisa as a guide that can be booked for an extra 25$US. This fact makes it easier on our end because we only have to provide food, translation and entertainment. Wait a sec, isn't that, what we usually do as well? Never mind…it felt good and our guests seem very happy, not only the kids…And if the guests are happy, we are happy!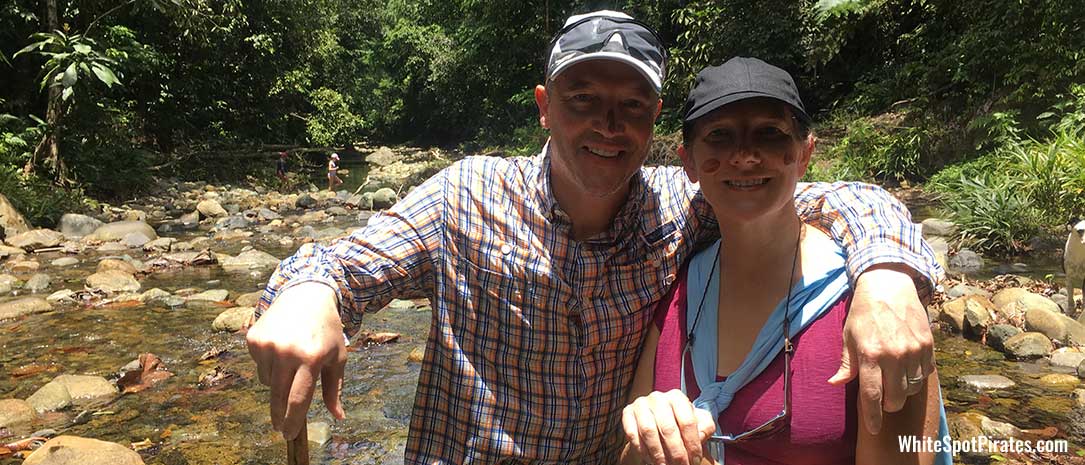 Cheeky Scott enjoyed the day that much, that he actually wants to try and keep this place a secret from all of you:
In case you would like to explore the beauty of this part of the world and join us for some San Blas adventures, we still have room on our two special Untie The Lines charters in June 2017 on Sail Joana. You can check out rates & dates here. Maria and I would love to welcome you on board!
If you are interested in any dates outisde those two charters in June, you can find Sail Joana's contact details here.